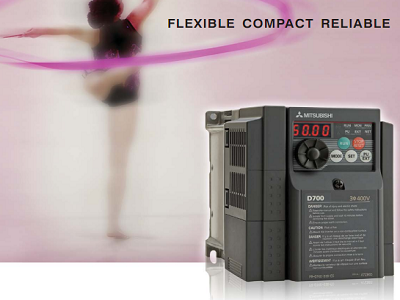 FR-D700 Series
Power Rating 0.4 to7.5 KW
General-purpose Magnetic Flux Vector Control.
High Starting Torque of 150% at 1 Hz.
Short Time Overloading Capacity of 200% for 3s.
Built-in Brake chopper for effective braking.
Frequency range 0.2 to 400 Hz
Power supply Single phase 200 to 240 VAC and Three Phase 380 to 480 VAC
Modbus-RTU communication available as standard.
Enhanced features like –

Dancer Control PID
Power Failure Stop Function
Traverse Function
Regeneration Avoidance Function
Forward/Reverse rotation prevention.
Life Check Function.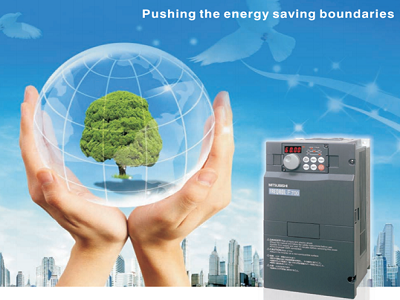 FR-E700 Series
Power Rating 0.4 to15 KW
Advanced Magnetic Flux Vector Control.
High Starting Torque of 200% at 0.5Hz.
Short Time Overloading Capacity of 200% for 3s.
Built-in Brake chopper for effective braking.
USB Port for configuration and troubleshooting.
Frequency range 0.2 to 400 Hz
Power supply Single phase 200 to 240 VAC and Three Phase 380 to 480 VAC
Modbus-RTU communication available as standard.
Enhanced features like –

Dancer Control PID
Power Failure Stop Function
Traverse Function
Regeneration Avoidance Function
Plug-in options for communication.
Catch spin function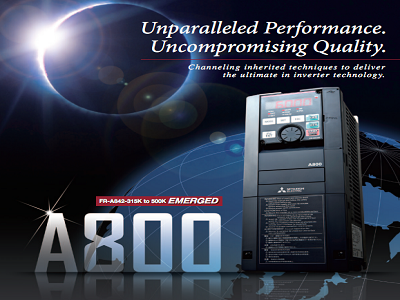 FR-A800
Power rating 0.4 to 630 KW
Frequency Range 0 to 400 Hz
Power supply 380 To 480 Or 500 VAC
Torque ,Position & Real Sensor less Vector Control
Close Loop Vector Control and easy to gain Tuning
Compatible with CC Link, Device Net, Profibus, Ethernet & CAN open Communication